Apureda Industry's air water separator utilizes the theory that combines the centrifugation, afflux, gravity and collision.
As the necessary pre-treatment device of compressed air pipeline filter, refrigeration air dryer and desiccant air dryer,
our air water separator can effectively remove the liquid moisture in the compressed air.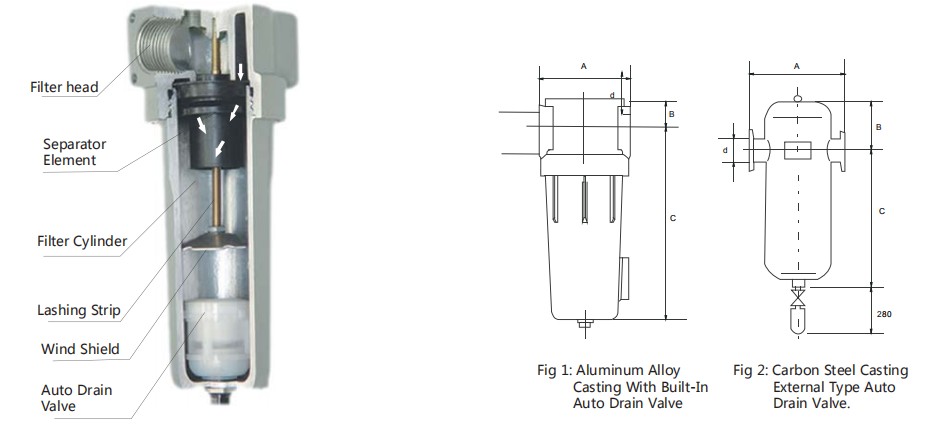 Parameters:
MaxWorkingPressure:1.6MPa
DrainageEfficiency:≤99%
WorkingTemperature:66℃
Remarks: 1.1.6Mpaaboveandothertypeseparatorcanalsobecustomized
2.Anydimensionsaresubjecttochangewithoutnotice.
Part No.

Fig

Folw Rate
m3/min(0.7MPa)

Inlet/outlet connector
Dimensions

Dimensions (mm)

Material

A

B

C

AW 0150

1

1.5 ~ 2.4

G1/2

89

26

166

 

AW 0216

1

2.5 ~ 3.6

G3/4

89

26

166

 

AW 0270

1

3.7 ~ 5.4

G1

89

26

166

Aluminum Alloy

AW 0270A

1

3. 7 ~ 5.4

M33 X 2

89

26

166

AW 0450

1

5. 5 ~ 8. 6

G1 1/4

120

41

256

AW 0540

1

8.7 ~ 13

G1 1/2

120

41

256

AW 1200

1

14 ~ 29

G2

160

51

413

 

AW1200A

1

14 ~ 29

M60 X 2

160

51

413

 

AW 2400

1

30 ~ 40

G2 1/2

216

65

660

Aluminum Filter Head
Stainless Steel
Filter Cylinder

AW 3000

1

41 ~ 50

G3

216

65

750

AW 2520

2

30 ~ 42

DN 80

450

180

620

Carbon Steel

AW 3300

2

43 ~ 55

DN 100

510

210

660

AW 4080

2

56 ~ 68

DN 125

580

280

830

AW 4800

2

69 ~ 80

DN 150

750

300

910